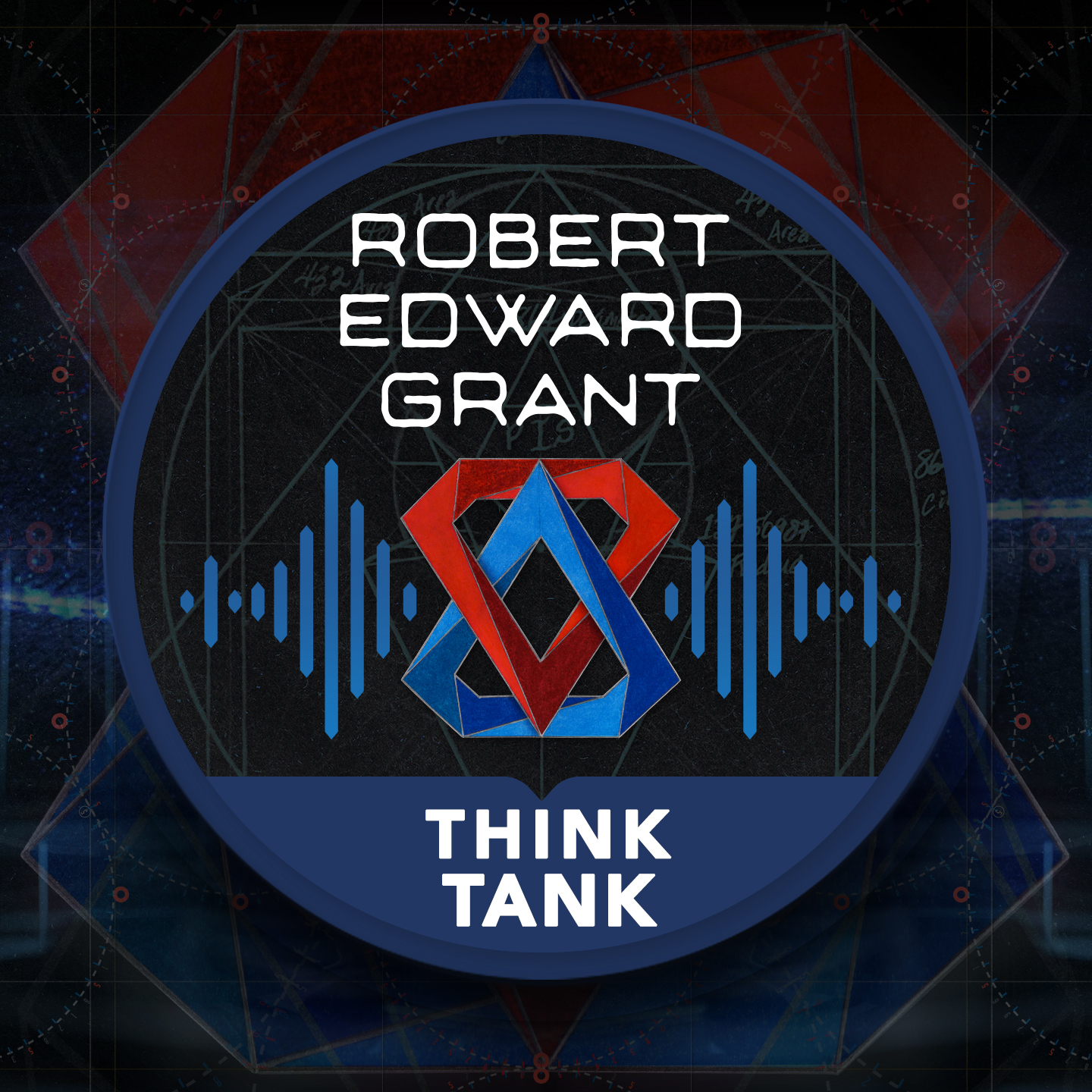 Think Tank: The Robert Edward Grant Podcast with Alan Green & Richard Rudd
Experience Robert and guests delving into profound topics such as spiritual nihilism, the hero's journey, and the notion of infinite beginnings, they explore the boundless possibilities within each of us.
Renowned author Richard Rudd returns to the Think Tank in response to popular demand to continue and expand on the topics they had left off on. To open the discussion into new areas, they are joined by Alan Green, a celebrated pianist, composer, author, and Shakespeare scholar. This captivating episode delves into the hidden secrets of the Freemasons intertwined with Cleopatra's Needle, shedding light on the mysterious inspirations behind Shakespeare's timeless works. Alan discloses his discovery of encryptions within the Declaration of Independence, the Bill of Rights, and the Constitution's preamble.
Exploring profound concepts like spiritual nihilism, the hero's journey, and infinite beginnings, they unlock the limitless potential within each individual. Prepare for a mind-expanding experience as they unravel Shakespeare's enigmatic identity and decode the veiled symbolism across languages. Together, they unveil covert codes concealed within Shakespeare's masterpieces, illuminating a deep understanding of the human experience and tapping into the depths of collective consciousness. Don't miss this extraordinary conversation, where ancient mysteries converge with modern wisdom, forever altering your perception of the world.
About our featured guest:
Alan Green is a multifaceted talent originating from Britain. With a background as a pianist, composer, author, and Shakespeare scholar, his diverse experiences seem contradictory. While he achieved success in the music industry during the 80s, his focus has shifted towards uncovering hidden codes within Shakespeare's works. Over the past 19 years, Alan's extensive musical training and unique perspective have allowed him to unveil concealed patterns overlooked by traditional academics. His groundbreaking discoveries shed light on Shakespeare's true identity and a scandalous secret that demanded a cover-up. Notably, Alan has located the precise spot where Shakespeare claims to have left physical evidence and even executed a daring heist to obtain conclusive scientific proof through radar scanning. Through his online presentations, known as the Bard Code, and his Gaia TV series, "Shakespeare Decoded," a previously unknown facet of the world's most renowned writer is revealed. This revelation promises to revolutionize the study of literature, history, religion, science, and various other disciplines. Among his notable works are "They Made A Monkee Out Of Me," "Mutant Monkees," and "Dee-Coding Shakespeare," the first book in the Holy Trinity Series. Alan's forthcoming books include "Bardcode," "The Shakespeare Equation," and "Under A Shakespeare Moon," a three-part novel.
About our featured guest:
Richard Rudd is a teacher, mystic, and award-winning poet whose spiritual journey began with a major experience at the age of 29. He emerged from this experience with a sacred teaching called the Gene Keys, which he wrote about in his book of the same name. Richard has traveled extensively, studying with renowned teachers in the East and sailing across the Atlantic Ocean on a small yacht. He earned a master's degree in metaphysics and literature from Edinburgh University and trained as a teacher of Chi Kung in Thailand. Richard's love of writing culminated in his 2006 win of the FISH international poetry award in Ireland. In recognition of his contributions to spirituality, Richard was named on the Watkins list of the 100 Most Spiritually Influential Living People in 2019. Today, he continues to share the wisdom of the Gene Keys with students all around the world.
Get Robert's latest book!
Neuromind builds on Robert's showcase of groundbreaking publications. This powerful book looks at a digital curtain that has descended upon humanity: technocracy.
Ep. 15 – Alan Green & Richard Rudd
Think Tank: The Robert Edward Grant Podcast with Alan Green & Richard Rudd Experience Robert and…
Subscribe to RobertEdwardGrant.com
Sign up for Robert Grant's News, Events, & Updates
Would you like to request Robert Grant to appear on your Podcast? Submit your request in the form below.